If you are looking for an IPTV free trial, you should be happy to know there are many IPTV services available. But most IPTV providers just offer a one-day free trial service. And GTV IPTV offers 3 days free testing service. It is very friendly for the user.
GTV IPTV provides the most reliable IPTV service with over 1000 Live channels, over 3000 latest movies, shows, Live world Sports, no buffering no freezing. In this chapter, I will show you how to get a free trial or Subscription on GTV IPTV.
Attention: Before getting a free trial or subscription, there have one thing that must be to do-need to register to create a new account.
Register to create a new account.
#1, First, please open the GTV website (website link: https://bestiptvgtv.com ), then click the "Login or Register" button in the upper right corner. There will pop up a page for filling in your email address.
#2, Then, please according to the instruction to fill in your personal information to finish the registration.
#3, Finally, an activation email will be sent to your email address when you register, please check it to activate your account.
How to get a free trial or subscription
Before purchasing the subscription you can get a free 3 days test and check the quality of the service and your favorite TV channels and also check the playlist of TV channels and VODs.
#1, Login to your GTV IPTV account. ( Website: https://bestiptvgtv.com/ )
#2, Click the "Subscription" button on the home page, then you can find the 3-day trial button. Please choose the version of the free trial you want.
Note: Click here to get a free trial or subscription. Each category – GTV IPTV, GTV Plus IPTV, and GTV Plus IPTV Sub-devices has a 3-day trial link directly below the category name. The following sections appear, please select the appropriate free trial version.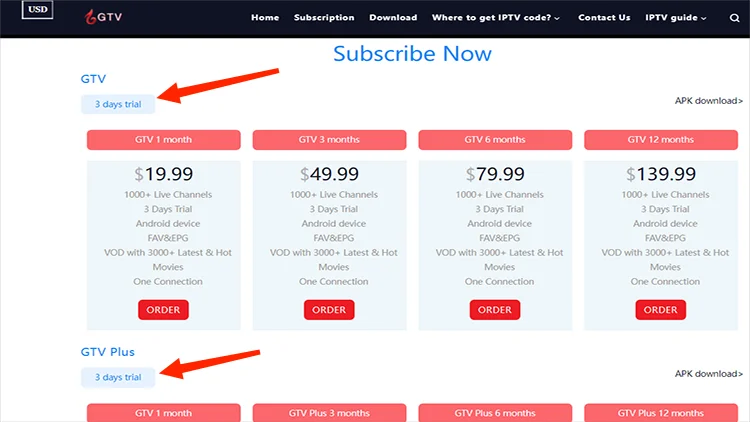 #3, Click "ADD TO CAR"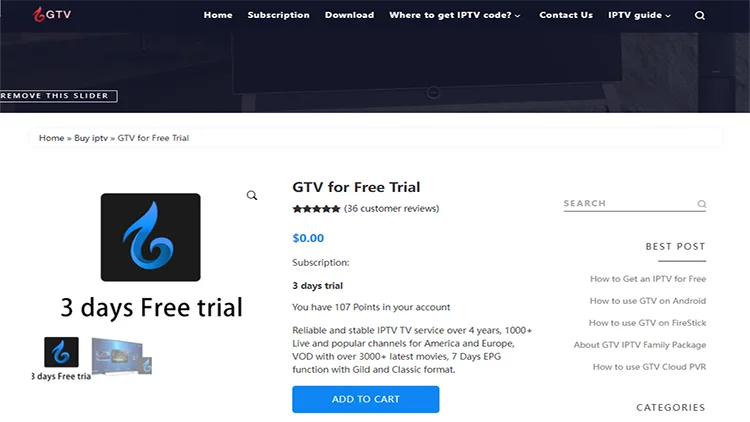 #4, Fill in your information as required. If you just want to get a free trial, you will not need to fill in your credit card information. Then click "PLACE ORDER"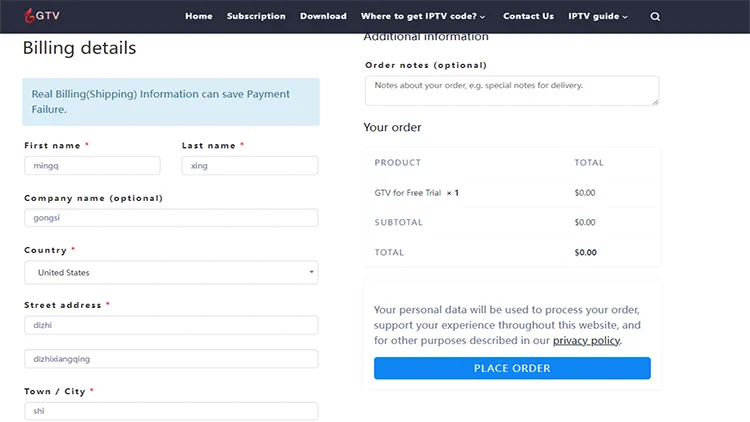 #5, Now, you have successfully obtained the free trial or subscription. Please check your trial code in the user center, MY ACCOUNT-My Orders-View Order-SKU / IPTV CODE. Or check your email/spam, the IPTV code is sent to your email automatically.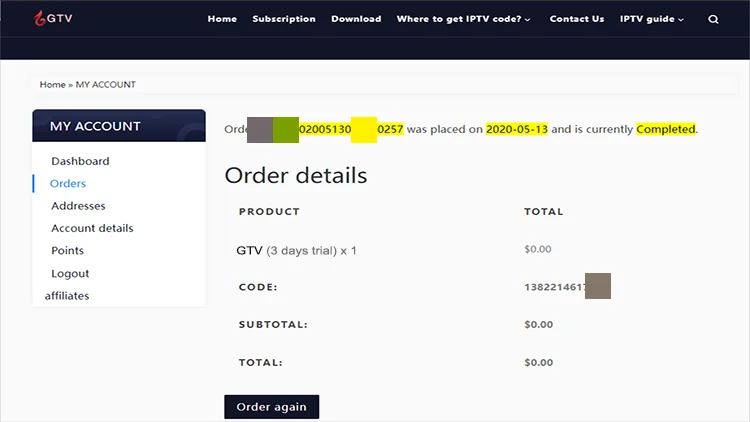 NOTE: This is your Activation Code needed for the app after it's installed on your device. You must enter the code into the app, this will connect the app to the GTV TV IPTV service, making it easy for you to watch TV online.
How to use the free testing service?
If you've done that, Congratulations, you'll be able to enjoy the wonderful live channel and VOD.
But here's the kicker:
GTV is an Android IPTV, we allow the clients to get and watch selected TV channels on their Android devices, as Android Box, Mobile Phone, Firestick, Nvidia Shield, and Smart TV set and Pad, etc. Please download the same version of the APP as you have obtained the free trial service.
1. Use IPTV on Android Box, Smart TV, Fire TV/Stick, or Nvidia Shield, Please Download the STB version Apk.
The GTV IPTV App has three types of download version links, Please select the correct version.
GTV App(Blue): https://www.iptvapkdownload.com/app/stbgtv
GTV Plus App(Red): https://www.iptvapkdownload.com/app/stbgtvp
GTV Plus Sub-Device App: https://www.iptvapkdownload.com/app/substb
2. Use IPTV on Mobile phone or Pad, Please Download the PAD version Apk.
GTV App(Blue): https://www.iptvapkdownload.com/app/padgtv
GTV Plus App(Red): https://www.iptvapkdownload.com/app/padgtvp
GTV Plus Sub-Device App: https://www.iptvapkdownload.com/app/subpad
Different versions of APK need different trial codes, please pay attention to it. You need to log in first and download it.
Use free testing service
First, open the GTV App on your device and click "Settings"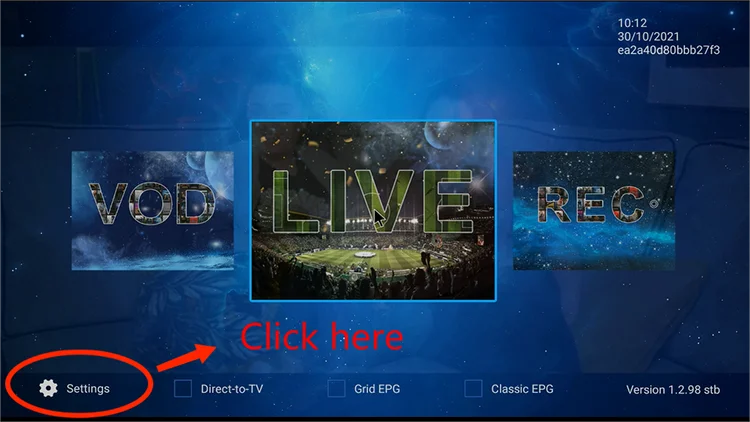 Then input the free trial code to activate the IPTV and you can start to watch your favorite channels on GTV.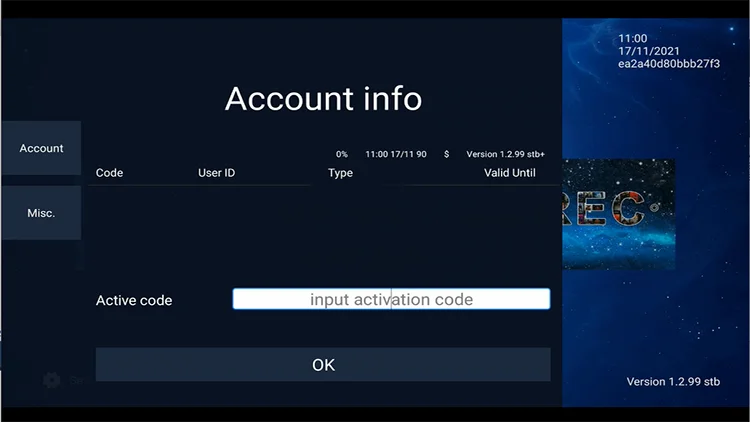 Congratulations! You can watch GTV streaming content on your device.
All our IPTV subscription codes are delivered immediately and are automatically sent through our IPTV website system. It is highly recommended that you get this free trial of IPTV before you consider becoming a paid subscriber to GTV IPTV.
GTV FAQ
What's GTV IPTV?
GTV is a High-quality IPTV Smart subscription provider with many years of experience, that has a playlist of more than 1000 Live channels in full HD and SD & VODS of updated movies and series. GTV IPTV servers are efficient and stable which will ensure you better quality when watching channels in HD with zero buffering. Add Image
What channels does GTV offer?
The GTV offers more than 1000 live channels and 3000 movies for the USA, United Kingdom, Greece, Holland, Germany, Italy, Spain, France, countries, etc. Such as BBC, EPL. EFL, ITV, BT Sport, OTE Sport, Nova Sport, ZA Sport,  etc channels. Add Image
How to use coupons?
Please fill in your Coupon in the shopping cart, the price will be discounted automatically.
What are the payment methods?
We accept Visa and Master credit cards and Debit Card. If you want other payment methods, please contact us.