What's IPTV with Catch Up 2022?
Catch-up is a type of VOD (Video On Demand). Catch-up can often be considered recording your TVwhich you can watch later. Catchup TV costs a huge amount for IPTV providers because for every Live channel they offer to catch up on, they then have to record every program going back however many days they offer their catchup tv service. Think about that – how many programs that are, and how much memory is needed by the IPTV providers on their servers to save all those catch-up programs.
This is why so very few internet TV companies offer catch-up, or if they do, they only offer up to 48 hours /2 days of catch-up programs.
However, the GTV IPTV offers 7 days catch-up function for over 200 important channels and sports. It's definitely good news for the user.
In this article, I will show you the feature of 7 days catch up in detail, which can help you to enjoy GTV channels.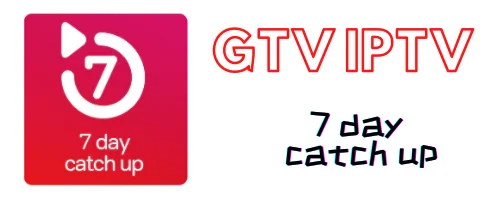 The Advantage Of GTV IPTV 7 Days Catch-Up
1. GTV IPTV provides in excess of 1000 channels from around the world from all over the UK/Ireland/Europe / America and Asia.
2. Having access to these channels. You can watch pretty much anything from Live Sports events including pay-per-view (PPV) events to Documentaries, TV series, and Movies.
3. Catch up tv IPTV: A feature that allows you to view a past recording of a specific television show/event.
4. You can think of Catch Up as a time-sensitive DVR (digital video recorder). GTV Plus packages with 7 days catch-up (playback function for over 200 important channels and sports).
5. With 7 days catch-up, you don't need to get up at midnight for a sport anymore.
How To Use GTV's 7 Days Catch Up Function?
Note: Just the plus version GTV IPTV and family package have 7 days catch-up function, the standard version does not have.
1, The way to tell if a channel has Catch UP is by looking at the EPG (TV guide) to see what channels show the video recorder image or icon.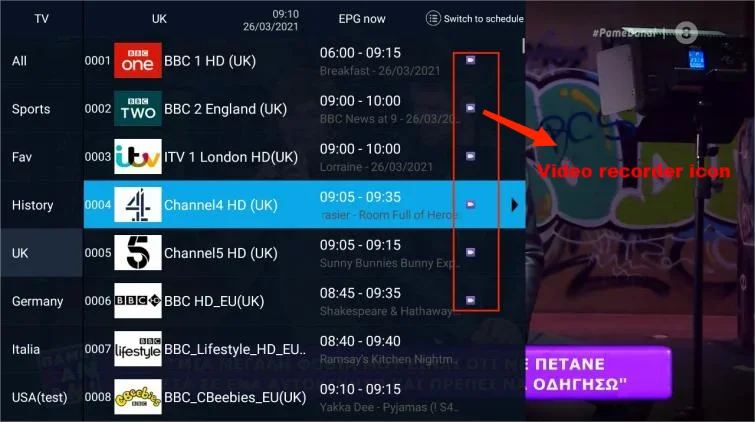 2, Scroll to the program you wish to watch in Catchup, when you click "Switch to schedule", there will appear the catch-up schedule. Choose what days grogram you want to watch, then press the OK key on the remote to start your program.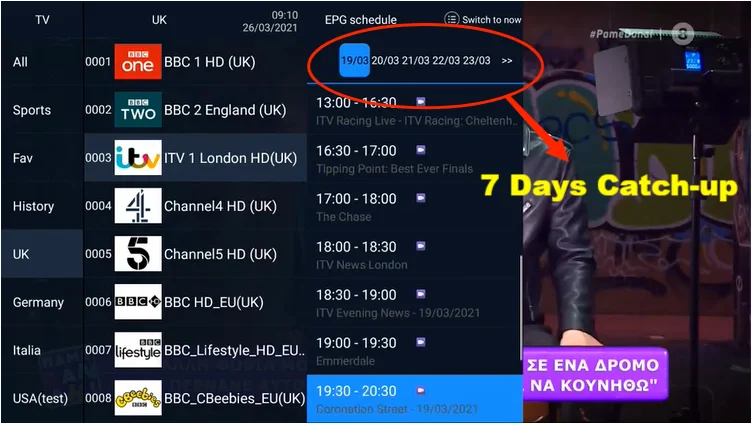 Customer reviews:
7 Day Catch Up – Lots of channels have the ability to be able to watch any show aired in the last 7 days (I use this so I don't have to get up at 2 am to watch a live event that may be in UK or USA)
Many of our channels are in true HD providing superb picture quality and most channels have 7day catch-up so you'll never have to miss your favorite program again!!
You've just realized that the big finale of the TV series you've been watching for the last 2 weeks, you missed it! …or that soap, at last, had a decent interesting storyline enough to hold your attention to want to know who did it, and then, aaargh you were at the shops and forgot to record it! Don't panic, IPTV Catchup is a great service available to you that some internet TV providers offer that gives you the chance to go back in time to Live programs that get automatically recorded for you.
With 7 days catch up, you do not need to get up at midnight for a sport anymore.
Quick To Know Some More About GTV IPTV:
(1)Support Android? (Yes/No) YES, can run on Samsung Phone, Tablet, Android TV Box, FireStick, Shield TV. Install apk then fill inactivate code. easy and simple.
(2)Support iPhone? (Yes/No) NO
(3)Support MAG Box? (Yes/No) NO
(4)Provide M3U link? (Yes/No) NO
(5)Provide Free Trial (for how many days)? (Yes/No) YES, 3Days
(6)How many streams are offered? 1000+ Live, 3000+ Movies. Good for the UK, AUS, Ireland, Greece, German, Italian and so on.
(7)7Days Catch UP & Record Function Supported
(8)Family package can be saved a lot for 2nd/3rd/4th devices in the same family!
(9)Reseller Panel available!
GTV FAQ
What's GTV IPTV?
GTV is a High-quality IPTV Smart subscription provider with many years of experience, with a playlist of more than 1000 Live channels in full HD and SD & VODS of updated movies and series. GTV IPTV servers are efficient and stable, ensuring better quality when watching channels in HD with zero buffering.
What devices does GTV IPTV support?
Our IPTV can run on Android devices like Android Smart TV, Samsung Phone, PAD, Tablet, Android TV Box, Firestick, FireTV, Shield TV, NVIDIA SHIELD box, Formuler OTT, Formuler TV Box, Enimga2 DVB Box, and so on.
What are the payment methods?
We accept Visa and Master credit cards and Debit Card. If you want other payment methods, please contact us.
Have to use VPN?
You can use VPN or not, both are OK.
How to use coupons?
Please fill in your Coupon in the shopping cart, the price will be discounted automatically.
Still, hesitating? We offer a 3-day free trial of IPTV, click here for more IPTV trial information