GTV IPTV is a popular streaming service among users due to its dependable and uninterrupted content of superior quality. To sign up for this service, an activation code is necessary, and in this article, I will furnish details on how to acquire and utilize a GTV IPTV activation code.
What activation codes GTV IPTV offers
GTV IPTV offers subscribers a 3-day free trial and a variety of paid subscription plans, once you subscribe to the service you will receive an exclusive IPTV activation code, here are the packages and plans it offers
| | | |
| --- | --- | --- |
| | GTV IPTV | GTV IPTV Plus |
| 3 Days | $0 | $0 |
| 1 Month | $20 | $33 |
| 3 Months | $50 | $80 |
| 6 Months | $80 | $130 |
| 12 Months | $140 | $200 |
| Subscription | Buy Now | Buy Now |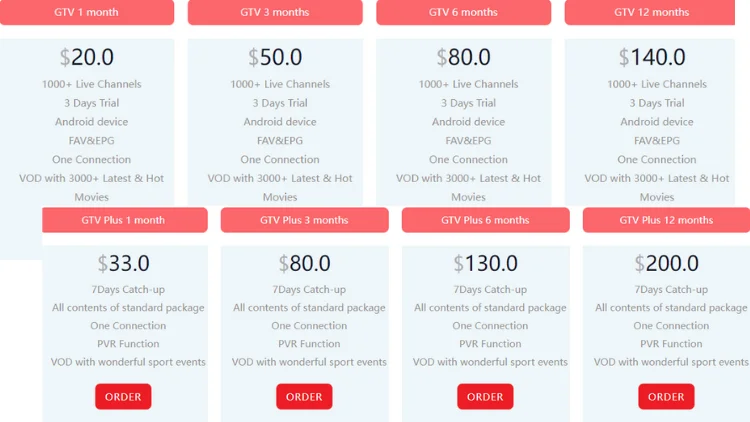 Related:GTV IPTV VS GTV IPTV Plus
How to get a GTV IPTV activation code
Getting a GTV IPTV activation code is very simple, all you need to do is visit the IPTV service website and select the package or plan you want, complete the relevant information and you will find the activation code in your email or by logging into the website.
Get a free GTV IPTV activation code
Because GTV IPTV offers a free trial, you can get an activation code for the service for free in the following ways
Visit the GTV IPTV website(https://bestiptvgtv.com/).
Click the My Account button in the upper right corner to register for a free account. (Remember to click on the activation email after filling out the information to complete your registration)
Visit the GTV IPTV website again and click on "Free Trial", click on"ADD TO CART".
After your order is submitted, wait for the system to send you an IPTV activation code.
Paid Subscription to GTV IPTV Activation Code
Paying for a GTV IPTV activation code is similar to a free trial, or you can skip the registration process and purchase GTV IPTV IPTV directly.
Visit the GTV IPTV website, click on "Subscription".
Select a GTV IPTV or GTV IPTV Plus subscription plan, and click "ORDER".
Fill out the order information and complete the payment (please make sure your email address is correct).
After the order is submitted, please wait for the system to send you the IPTV activation code automatically.
Where to find the GTV IPTV activation code
Once you have paid for your order, the GTV IPTV website will send you the IPTV activation code in two ways: by email and through the website account center. (The whole process is automatic, with no manual processing, and the waiting time is usually less than two minutes)
Method 1
Go to the email address you filled in when you submitted your order.
Check your inbox for emails from GTV IPTV.
If you don't find any emails from GTV IPTV in your inbox, please check your junk mailbox
If you do not receive an email from GTV IPTV within 10 minutes, please contact support@bestiptvgtv.com
Method 2
Visit the GTV IPTV website.
Click the Login button in the upper right corner to log in to your account.
After logging in, go to My Account -Order -CODE  (This is Your GTV IPTV Activation code).
How to use GTV IPTV Activation Code
Install the appropriate version of Apk (GTV IPTV Apk or GTV IPTV Plus Apk) according to the package you subscribe to.
Open the GTV IPTV App, the activation screen will be displayed, please fill in your IPTV activation code in the Active code field.
If you do not see the activation screen, please click Settings on the main screen of the App and fill in your activation code.
If you don't know how to install GTV IPTV Apk, please check our detailed installation tutorial. GTV IPTV Apk is available for all Android devices and Firestick devices.
FAQ
Why does the GTV IPTV activation code not work?
There may be several reasons why the subscription code doesn't work. Check as follows:
1. Fill in the correct subscription code.
2. If still with the problem, check whether the correct VERSION of APK is installed. There are two versions: GTV IPTV (Blue color), and GTV IPTV Plus (Red color), they use different free trial codes.
3. If you have purchased the wrong version subscription code, please contact us to replace it. If you change the subscription code from the GTV IPTV version to Plus, It is OK and please contact us. And you can pay the balance if any. Please pay attention: do please not activate the code, if you want to change/replace it.
4. If the above methods do not help, please get in touch with our support email directly.
What's the difference between a trial code and paid subscription code?
The main differences are as follows:
1. The trial code is 3 days.
2. Paid subscription code is 31/93/186/372 days.
3. Some valued programs are not opened in the trial code.