Nowadays, more and more people are using the IPTV subscription service.IPTV services are becoming more diverse in the IPTV market, and they also offer more and more program channels. So, the FAV feature can help us to watch our favorite programs. This tutorial will show you how to add FAV channels on GTV IPTV.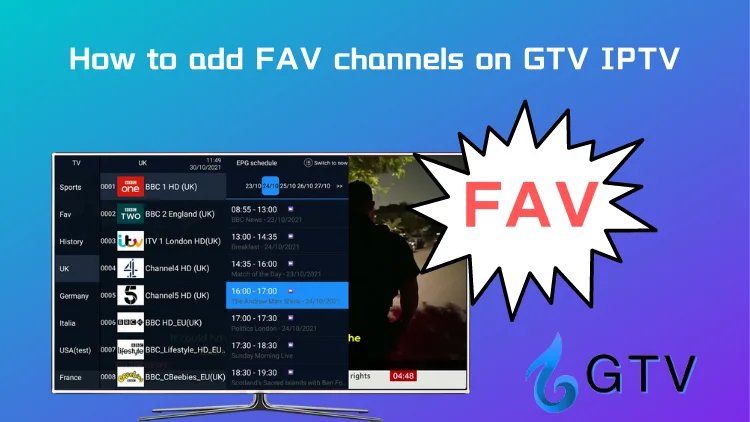 What is GTV IPTV?
GTV IPTV is the best IPTV service in the UK, Provides IPTV subscription services from 20 other European countries, including the UK, Ireland, Greece, and Germany.
There are 3000 + VOD and 1000 + live channels and 200 + valuable sports channels. When you encounter a favorite program, you can choose to use the FAV function to add your favorite program. Of course, they also offer a free 3-day trial service. Let us have plenty of time to test before we subscribe.
How to add FAV channels on GTV IPTV?
When you encounter a long list of program guides, there are a lot of programs flat channels are we usually do not watch, but a program to search for is also a very annoying thing. So, there is a FAV channel addition feature that lets you solve your immediate problems.
The FAV function is very useful, you can use it in various ways and make it work for your channel.
Access Live TV on the app's main interface and click the Ok button on your remote control to bring up channel information.
Scroll to your favorite channel and click the Ok button again.
Long press the Ok button on the remote control to display the information bar while the channel is playing.
Go to the star-shaped icon and use the Ok button to add the channel to the favorites list. (Just like adding channels, removing them from the favorites list is also easy. )
Now access the channel list on the left and click on Favorites.
You can see the favorite channel that we just added.
Note: When you add a channel to the favorites list, you can also quickly access it from the FAV list on the main interface of the GTV App.
How to Create Favorite Channel List in GTV App
Creating a customized favorite channel list in GTV app can help you quickly access your preferred channels based on your interests like entertainment, sports, kids, etc. Follow the below steps to create your own channel list:
On the app's home screen, click on the "Fav Manager" option at the bottom.
Click on "App Group".
Name your new favorite channel list. For example, instead of viewing over 1,000 channels, you may want to select the football Sports group to find programs to add to the FAV column.
Click on "Add Channels".
Customize your new favorite list by adding channels according to your viewing habits. Save the changes by clicking "Save change" on the left sidebar.
Return to "Live TV", and you will see your newly added categories and channels on the left-hand channel list.
If you want to delete or rename the created channel list, go back to "Fav Manager" and long-press on the channel list. Choose your desired option from the available choices.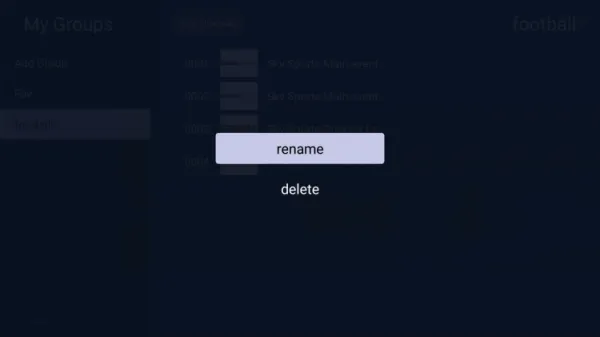 Enjoy your personalized channel list and never miss your favorite shows again!
How to Add Movies or TV Series to Favorites in GTV App
GTV IPTV offers thousands of the latest movies and TV series that you may not have time to watch yet, and you want to add them to your favorites to avoid forgetting about them later. Don't worry, GTV App can help you with this. Here are the steps:
Access Movies or TV Series from the main menu of the App.
Click on the movie or TV series that you want to add.
On the movie or TV series detail page, click on ADD FAV.
Now, access the Fav section from the left menu, and you will see the recently added favorite movie or TV series.
By following these steps, you can easily add movies or TV series to your favorites list in GTV App and access them anytime later without searching for them again.
Video Tutorial to add Fav Channels on GTV IPTV
FAQ
What is IPTV's Favorite Function?
The favorite function is a feature that allows users to add channels, programs, or other content to a personalized list of favorites. This enables quick and easy access to the user's preferred content without having to search for it every time. The favorite function is commonly found in multimedia applications and IPTV services.
Does GTV IPTV have favorites?
Yes, GTV IPTV offers a customized GTV App and GTV Plus App, which provides a favorite function for users to add and delete favorite channels, as well as create a new channel list.
Don't have an IPTV subscription to access GTV's favorites?
Without GTV IPTV, you won't be able to access the GTV App, nor will you be able to use the app's favorites. If you're new to GTV, you can request a free trial of our IPTV to try out GTV's Favorites function.
The last
Have you already learned how to use the FAV features on your GTV IPTV? Then act, please come! Collect your favorite program channels or movies through a free trial or IPTV subscription service.