Stremio, a versatile media streaming service, brings an array of entertainment options right to your fingertips. Whether you're using a FireStick or an Android TV Box, Stremio caters to your entertainment needs. In this guide, we'll explore how to install and use Stremio on FireStick and Android TV Box for a seamless streaming experience.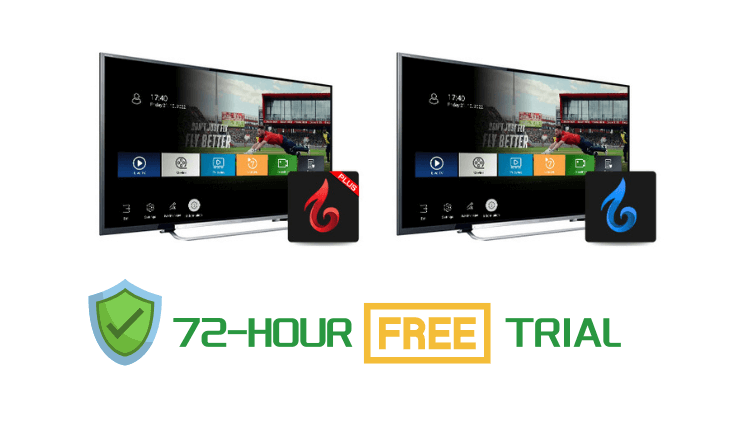 IPTV Free Trial
+1300 Live TV & +3000 VOD
TV Guide (EPG)
Plus with Catch Up & Cloud PVR
Reliable & Stable Server
Supported to Android & Firestick
3 days Free Trial, No CC
Instant Activation
What is Stremio?
Stremio is a versatile media streaming service and IPTV platform that opens up a world of entertainment, providing access to movies, shows, and various online content. It offers seamless compatibility across a wide range of devices, including computers, mobiles, and TV devices, ensuring users can enjoy their favorite content wherever they are.
While you can easily find Stremio on Google Play Store for Android mobiles and Android TV Boxes running on stock Android OS, it requires manual installation (sideloading) on FireStick and Android TV Boxes with Android TV OS, such as Mi Box, Google TV, and Nvidia Shield. This flexibility allows users to enjoy Stremio on these devices as well.
Compared to other media center applications like Kodi and Plex, Stremio stands out for its simple and intuitive interface, making it easy for users to navigate through the vast library of available content. Though it may not be as feature-rich as Kodi, its seamless streaming capabilities make up for it, allowing users to watch almost everything they like.
One notable advantage of Stremio is that its add-ons are installed online, saving valuable local storage space, which is particularly beneficial for devices with limited storage, like FireStick and most Android TV Boxes. Additionally, Stremio's online installation approach ensures that when you install an add-on on one device, it becomes available across all your devices using the service, creating a unified and convenient viewing experience.
Is Stremio safe & legal?
Stremio's safety and legality are two aspects to consider. Being available on official app stores like Google Play Store and Apple Store adds to its safety, as it undergoes thorough checks before being listed. Scanning Stremio's APK with antivirus tools like Virus Total reveals no red flags, further supporting its safety.
Regarding legality, Stremio itself is legal, but caution is needed with third-party addons. These addons might access content from unverified sources, raising copyright concerns. As a user, it's crucial to be aware of the responsibility for the legality of accessed content. Some addons may distribute copyrighted works without consent, potentially leading to legal issues.
To enhance privacy and security, using a VPN while streaming through Stremio is advisable. VPNs encrypt data, safeguarding online activities.
How to download Stremio on FireStick?
To download Stremio on FireStick, you will need to sideload the app, as it is not available on the Amazon Store. Sideloading is the manual installation of an app, and I'll guide you through the process step by step.Before we start, you need to install the Downloader app, which serves as a sideloading tool for FireStick. Here's how to do it:
Go to the Amazon Store and use the Find > Search option to look for the Downloader app.


Install the Downloader app on your FireStick.
Once you have the Downloader app installed, follow these steps to set up your FireStick for Stremio installation:
Go to the home screen of your FireStick and select the Settings option from the menu.

Click on "My Fire TV."

In the following options, click on "Developer Options."

Tips: If you can't find Developer Options, check out this tutorial: How to access Firestick's developer options?2023
Click "Install unknown apps."

Note: If you see "Apps from Unknown Sources," turn it ON and skip the step below.
Turn ON the Downloader app.

With your FireStick ready for Stremio installation, let's proceed with the installation process:
Open the Downloader app (you can create a home screen shortcut for easy access).
Click on the URL field.

Enter the URL https://strem.io and click "Go." Note: This URL leads to the official website of Stremio.

When the page loads, click "Got it" at the bottom.

Click the hamburger icon.

Scroll down and click "DOWNLOADS" from the dropdown menu.

On the following webpage, scroll down to the Android section and click the "Stremio ARM APK."

Note: The version may change with new updates.
Wait for the Stremio APK to download.

The installation window will appear when the APK is downloaded. Click "Install."

After the app is installed, click "DONE" (not "OPEN") and return to the Downloader app.

Click "Delete" to remove the APK file, as it is no longer needed and will save space on your FireStick.

You've successfully installed Stremio on your FireStick. Now, if you're unsure about how to make the most of it, worry not! Just keep reading to learn how to use Stremio like a pro and unlock a world of endless entertainment on your FireStick. Let's dive in!
How to use Stremio on FireStick?
To use Stremio on FireStick, follow these simple and straightforward steps to dive into a world of entertainment at your fingertips:
On the FireStick home screen, click the "Your Apps & Channels" button. This button is usually represented by three small squares and a "+" sign.

Locate and click on the Stremio app from the list of installed apps.

Upon opening the app for the first time, you might see a window with some initial setup options. For instance, it may ask you to log in or create an account. You can choose to proceed with these options if you wish or click "Not Now" to skip them.

Once you have completed any initial setup prompts, you will be directed to the main interface of the Stremio app.

Use the navigation buttons on your remote (if available) or on-screen controls to browse through the content library, including Movies, Series, Channels, and TV Channels subcategories.

The My Library section in the Stremio FireStick app stores your favorite movies and shows, including items synced from Trakt integration. Enjoy easy access to your preferred content!

The most crucial section of the Stremio app is the Add-ons, located at the bottom of the dropdown menu. These add-ons enable content streaming, making them indispensable for accessing streaming content within the app. Below, we'll explain how to install addons on Stremio.

How to Install Addons on Stremio?
To install addons on Stremio, follow these steps for a seamless streaming experience:
Access the Stremio main screen and click the menu icon in the top-left corner.
From the dropdown, select "Add-ons." By default, it will display Community addons.

Scroll through the list of available categories and select the addon you want to install.

Note: You can also filter addons by content type: Movies, Series, Channels, or Others.
Click "Install" when prompted. If a warning appears, click "Install" again.

Once the addon is installed, you will see the "Uninstall" button in its place.

With the addons installed, you can now start streaming your favorite content. Simply choose a movie or show, and Stremio will find streaming links for you. Click on a link to start watching effortlessly! Remember, using a VPN while streaming on Stremio is recommended to ensure privacy and security.
How to install Stremio on the Android TV Box?
To install Stremio on an Android TV Box, the process may differ based on the device's Android OS. If your Android Box operates on the standard Android OS (similar to Android mobiles), you can easily download Stremio from the Google Play Store.However, if your Android Box uses a true TV Android OS (e.g., Mi Box or Nvidia Shield), you'll need to sideload the Stremio app as it's not available on the Google Play Store. For this, we'll utilize the Downloader app to install Stremio on your Android TV Box.Follow these steps for sideloading Stremio:
Open the Google Play Store and search for "aftvnews" to find the Downloader app.

Click on the Downloader app in the search results and proceed with the installation.


After installing the Downloader app, open it and grant it access to file and media. Then click "OK" on this prompt (only shown during the first run of Downloader).


Type in the URL "https://www.firesticktricks.com/st" in the Downloader app and click "Go."

The Downloader app will download the Stremio APK file to your Android Box.

If installation from unknown sources for Downloader is not enabled, a prompt will appear. Click "Settings," switch on the toggle next to Downloader, and go back.



Click "Install" to proceed with installing Stremio.


Once Stremio is installed, you can delete the Stremio APK file from storage.


To access Stremio, go to "Settings," click on "Apps," and select the Stremio app.



Click "Open" to run Stremio on your Android TV Box and enjoy endless entertainment options.

Remember, sideloaded apps like Stremio might not be displayed in your app drawer, so accessing it through the "Apps" section is not possible. Instead, open "Settings," click on "Apps," and choose Stremio to start using it on your Android TV Box.
FAQ
How to install Stremio for free?
To install Stremio for free, follow these steps:
Open a web browser on your device.
Go to the official Stremio website (https://www.stremio.com/).
Look for the "Download" or "Get Stremio" button on the website's homepage and click on it.
You will be directed to the download page. Select the version that corresponds to your device's operating system (e.g., Windows, macOS, Linux, Android, or iOS).
For Android devices, you might be redirected to the Google Play Store or another trusted app store, where you can directly download and install Stremio for free.
If you are using a device like FireStick or Android TV Box, you might need to sideload Stremio by downloading the APK from the Stremio website and manually installing it on your device.
Follow the on-screen instructions to complete the installation process.
Once the installation is finished, open the Stremio app, and you are ready to explore a wide range of movies, shows, and online content for free.
Please note that while the Stremio app itself is free to download and install, some content available through third-party addons may require subscriptions or may not be legally available for free. Always use caution and make sure you access content from legitimate sources to stay within legal boundaries.
Does Stremio still work on FireStick?
Yes, Stremio is compatible with FireStick, and it still works on FireStick. However, if you want to install it on FireStick, you'll need to sideload (manually install) it because it can not be directly obtained from the Amazon Appstore.
Is Stremio APK safe?
Yes. Indeed, Stremio has undergone a thorough scan by VirusTotal, affirming its absolute safety for use. However, to ensure comprehensive protection, we highly recommend employing a VPN to encrypt your data. By doing so, you can fortify your online privacy and security, creating a shield against potential threats while enjoying the seamless streaming experience Stremio offers.
Is Stremio legal?
Stremio is legally available on official app stores like Google Play Store and Apple Store. However, using third-party addons to access copyrighted content may have legal implications. Stick to verified addons for a safe streaming experience.
Is Stremio free?
Stremio is a free media streaming platform that offers a treasure trove of entertainment. You can enjoy a diverse collection of movies, TV shows, and more without spending a penny. It's available for free on various devices like computers, mobiles, and TV devices. Just download Stremio, and you'll unlock a world of endless entertainment at your fingertips! However, keep in mind that some third-party addons might require separate subscriptions or payments. So, while Stremio itself is free, make sure to navigate legal content sources for a worry-free streaming experience.
Conclusion
Now that you've learned how to install and use Stremio on FireStick and Android TV Box, the world of endless entertainment is at your disposal. Enjoy a variety of movies, shows, and online content on your preferred device, all with the user-friendly interface of Stremio. Remember to exercise caution while using third-party add-ons and ensure you stay within legal boundaries for a hassle-free and enjoyable streaming journey. Embrace the convenience of Stremio and unlock an abundance of entertainment possibilities!