With FireStick lacking a native web browser, the sideloading process often involves typing long URLs using a remote control, which can be cumbersome. Unlinked applications come to the rescue by simplifying sideloading and improving user convenience. These codes are not only efficient for sideloading but also compatible with IPTV providers, granting you access to a diverse range of content to elevate your IPTV subscription. Get ready to explore the best Unlinked codes UK for an enhanced IPTV service in 2023.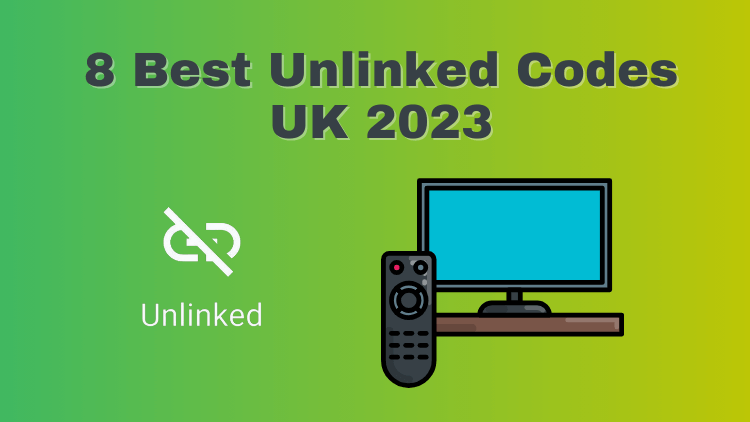 What is Unlinked?
Unlinked is a versatile application designed for FireStick users seeking to sideload apps, providing a practical alternative to the Amazon App Store. It empowers users with access to a diverse array of apps that may not be found through official channels. Unlinked simplifies the installation process by generating unique codes linked to specific apps or repositories, streamlining the process of downloading and installing preferred apps onto FireStick devices. It's important to note that Unlinked doesn't host these apps itself but rather facilitates the process, granting users greater flexibility and convenience to enhance their streaming experience.
Compared to FireLinked, Unlinked stands out as a top choice for sideloading apps on Firestick and Android devices. It not only enables the installation of apps not readily available but also offers tools for efficient library management, allowing users to sort, modify, or delete contents as desired. It's important to understand that Unlinked codes don't host the downloaded apps directly; instead, they generate numeric or alphanumeric codes that facilitate app downloads from their respective host websites. In this guide, we've explored the best Unlinked codes, ensuring you can download and stream content tailored to your preferences with ease.
Is Unlinked Safe?
Unlinked's official APK underwent a comprehensive virus and malware scan via VirusTotal. The outcome revealed no signs of suspicious files or malware, offering a degree of confidence in Unlinked's security.
Nevertheless, even with these reassuring scan results, exercising caution is vital when dealing with unverified code. Prudence is essential when installing and utilizing apps from unfamiliar sources, as potential risks should be taken into account.
One effective security measure is to employ a VPN. A VPN encrypts your internet connection, safeguarding your identity and online activities. This added layer of security ensures that personal information remains confidential and protected from potential threats when using Unlinked or similar applications. It's a prudent step to enhance your overall online security.
Other Best Alternatives to FileLinked
Considering the recent issues with FileLinked, many users are seeking viable alternatives to this service. Fortunately, several free alternatives provide the means to download third-party apps on your Firestick. To ensure your streaming activities remain private, it's advisable to use a VPN with your Firestick. Here are some noteworthy alternatives to FileLinked for you to explore:
1: AppLinked.
2: Downloader.
3: Aptoid TV.
4: UnLinked.
5: APKTime.
6: FileSynced.
7: APKPure.
8: APK Archive.
What are the Best Unlinked Codes UK?
It's essential to understand that the Best Unlinked Codes UK app itself does not serve as a host or direct source for downloadable apps or services. Instead, it relies on specific Unlinked codes to facilitate the downloading and installation of popular streaming apps and tools. These codes essentially serve as gateways, granting users convenient access to their desired apps and simplifying the installation process on their devices.
Please take note: To utilize the codes listed below, you must first install the Unlinked APK on your Streaming Device. Similar to the dynamic nature of Free Movie Streaming Sites, the availability of Unlinked codes may fluctuate over time, with some codes becoming inactive or inaccessible.
As of the time of composing this article, the provided Best Unlinked Codes UK below have been verified as functional and accessible for use. However, it's crucial to keep in mind that these codes may undergo changes or become inactive in the future. Staying up-to-date with the latest codes is advisable for a seamless streaming experience.
A friendly reminder from GTV IPTV:
We strongly advise using a VPN alongside various Unlinked codes. This additional layer of security will keep your streaming activities discreet, safeguard your online anonymity, and protect your privacy and personal information.
The Best Unlinked Codes UK
12341234
EB2E4A4C
90D311FE
67664537
710AB04D
7cd6a4f1 (Pin: 911911)
Superapps (Pin: 911911)
Code: 96960000
Let's explore their features and characteristics one by one to help you better understand them.
Code: 12341234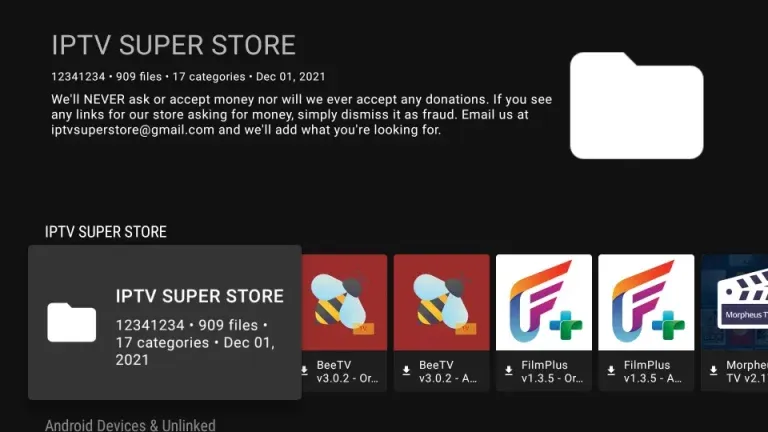 Code 12341234 stands out as one of the best Unlinked codes due to its extensive library of high-quality apps. With a total of 893 apps divided into 19 diverse categories, it offers a wide range of entertainment options. Some notable apps included in this code are Cinema HD, IPTV Smarters, Wolf Launcher, Kodi, Syncler, Stremio, Ocean Streamz, Strix, APKTime, and many others.
With such a comprehensive collection of apps, code 12341234 provides a convenient one-stop entertainment solution for users.
Code: EB2E4A4C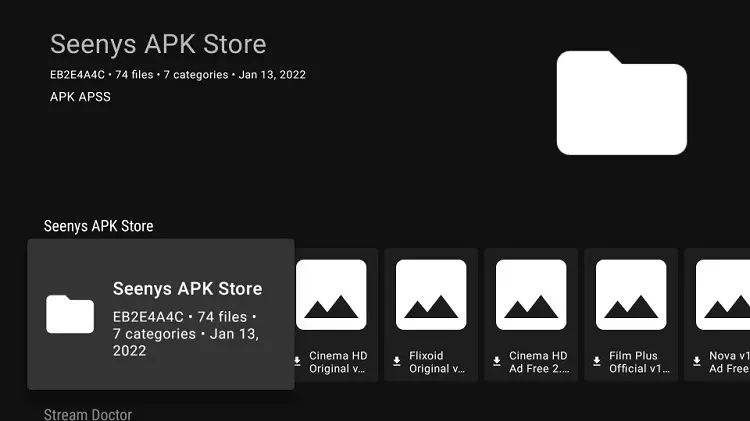 This code provides access to Seenys APK Store library, which includes over 70 applications categorized into seven different categories. These categories encompass Movies/TV Shows, Live TV, tools, Browsers, VPNs, Music, and YouTube.
Code: 90D311FE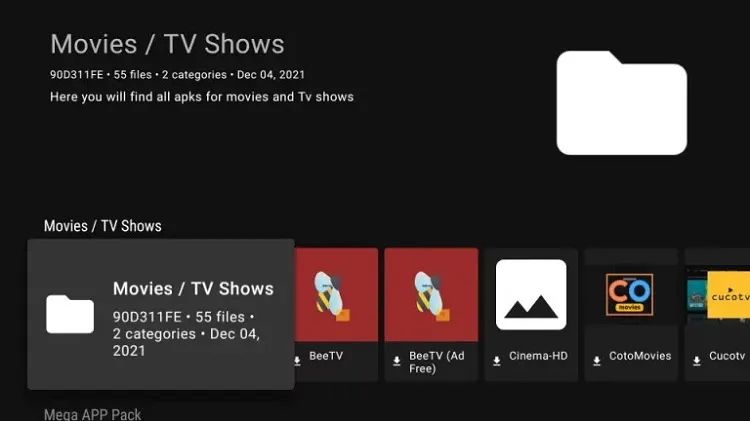 The Unlinked code 90D311FE allows you to access the app library created by a developer called Oztech3000. This store is excellent for movies, TV shows, and anime lovers, as all 48 apps are in that category. Here, you will find popular as well as more obscure apps for streaming films and series. There are a few duds, but most of the apps are still working. Some apps here include Anime World, Viva TV, Bee TV, Film Plus, ZiniTevi, Live Net TV, and Nova TV. Oztech3000's library also comes with several modded versions of popular streaming apps that are free of ads.
Code: 67664537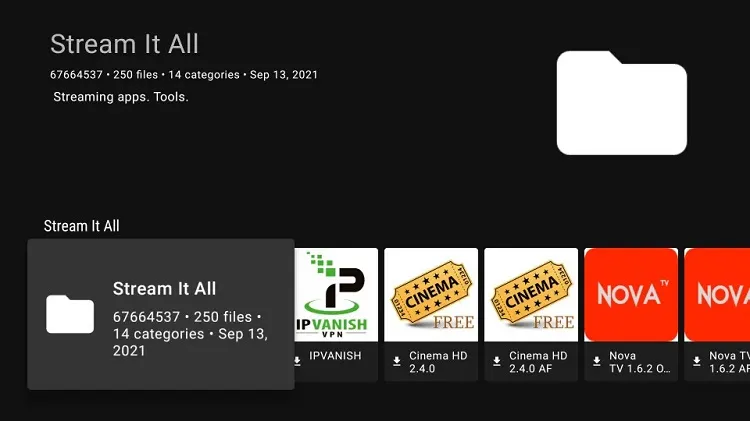 This Unlinked library is called "Stream It All" and contains some quality applications. They also have a quality FileSynced store.
The popular apps within this library include TeaTV, Cinema APK, Dofusports, MediaBox, Rokkr, Smart YouTube TV, and more. The code Stream It All offers more than 250 applications. These applications are divided into 14 categories to make them simple for the user. It provides various options, for example, on-demand content like movies and TV shows.
Code: 710AB04D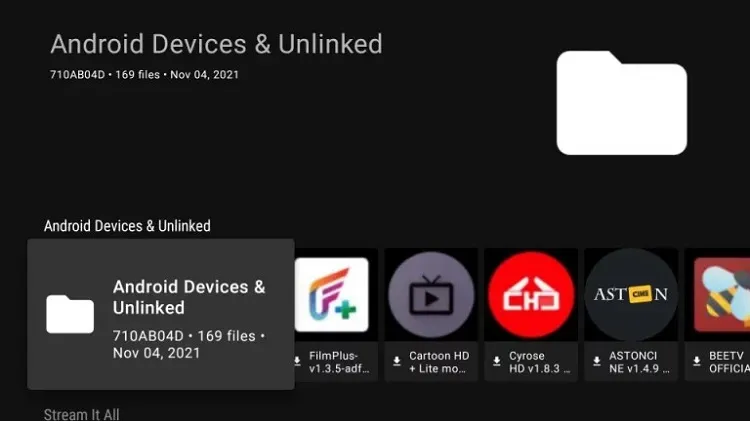 Here is our next code with 164 apps that you can download for your FireStick device. However, the disadvantage of this library is that there are no file categories. Thus leaving the task on the user to divide and search categories.
The code contains exciting applications for movies /TV series, kids, anime, IPTV, media players, and utilities. Furthermore, this code is called Android Devices & Unlinked.
Code: 7cd6a4f1 (Pin: 911911)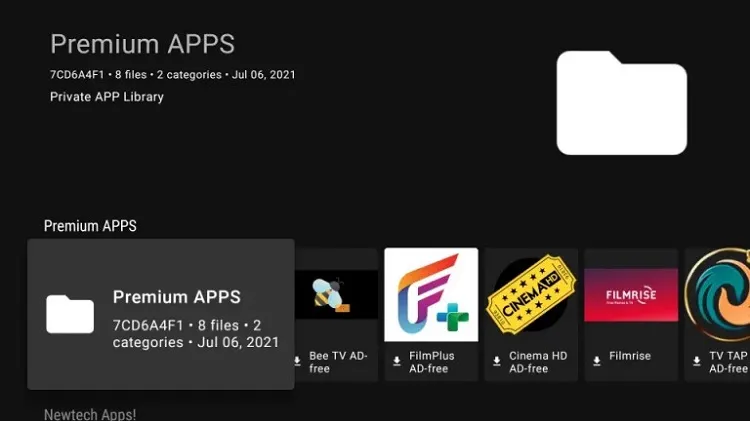 With this code, you gain access to a collection of 29 apps conveniently organized into seven categories. The available categories include Movie/TV Show Apps, Live TV Apps, Kodi, FireStick Tools, Ad-Free Movie Apps, and Ad-Free Live TV.
Code: Superapps (Pin: 911911)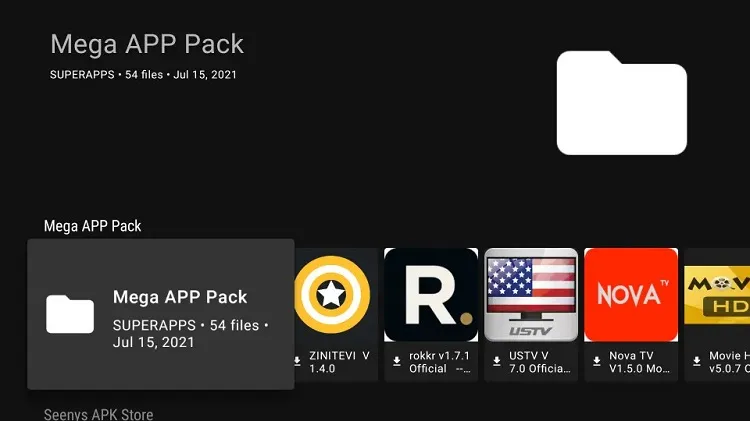 The pin 911911 serves as the Superapps code for accessing the Unlinked store's Mega App Pack. This store features a comprehensive collection of 54 FireStick applications, covering a wide range of categories. Among these categories are Movies/TV shows, Live TV, Live Sports, Cartoons, and Anime, as well as Utilities.
Code: 96960000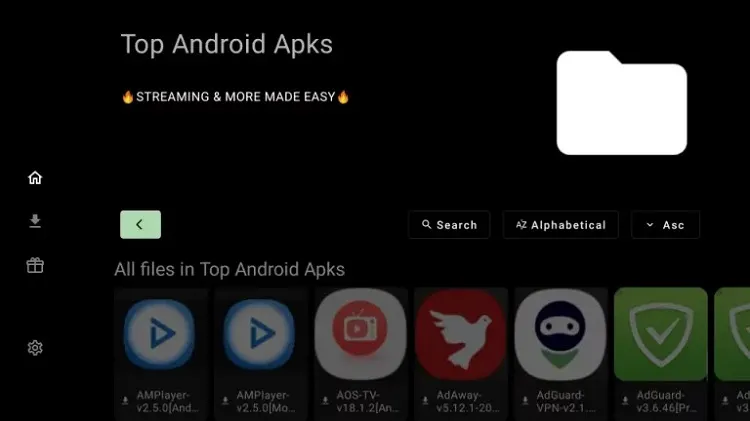 This last unlinked code we have mentioned is Top Android Apks. This code has more than 299 applications with 16 categories. These include Ad-free, anime, browser, live tv, mobile, movie. music, official, sports, tools, VPN, as well as media players.
Are you in search of a hassle-free TV program experience, minus the complexities of link codes? Look no further than GTV IPTV service! It offers a premium viewing experience, and the icing on the cake is a three-day free trial. This means you can thoroughly explore its extensive IPTV content, which even includes PPV (pay-per-view) options. With GTV IPTV, you're in for a treat with access to a vast array of TV programs. Whether it's your favorite shows or must-watch events, you won't miss a thing. Plus, the high-quality streaming and user-friendly interface make it a top choice for entertainment enthusiasts. Elevate your TV viewing with GTV IPTV! Don't miss out!
More Unlinked Codes
I have previously provided information about the top Unlinked Codes. Now, let me present you with additional codes that you can utilize:
DF9C7131
72727272
F398174F
99999999 (Pin: 88888)
9135f6a0
33627466
customforks19.3
e89349b6
Tools3333
dagoberts
How to Add Library Codes to Unlinked APP
You can find instructions for downloading and installing Unlinked in the following text. Once you have installed the application, below are the steps for entering the code for the new library. Feel free to continue reading the article below if you are interested:
Launch the Unlinked app. Select Add a new library.

A field will display on the screen to type in the code. Click Next.

With the help of the on-screen keyboard and your FireStick remote, type in the Unlinked code. Click Next.

The added library will display on the screen. Now you can explore the store.

Your FireStick / Fire TV is now set up for streaming your favorite content. However, I want to caution you before you begin. Remember that everything you watch online can be seen by your ISP and the Government. This means that streaming free movies, TV shows, and sports could potentially lead to legal issues.
Thankfully, there's a reliable solution to keep your streaming activities private from both your ISP and the Government. All you need is a quality VPN for your Fire Stick. A VPN will disguise your original IP address and help you evade online surveillance, ISP limitations, and content restrictions based on location.
So, before you begin streaming on your Firestick/Fire TV, make sure to use a trusted VPN to safeguard your streaming activities. Check out our guide Best 8 VPNs for IPTV 2023 to explore the VPN apps that are suitable for you.
Video: How to Install Unlinked and Add First Library
This video demonstrates the installation process of the Unlinked app and how to add your first library using it.
FAQ about Best Unlinked Codes UK
What is the unlinked app?
Unlinked is a free utilities and tools app that acts as a download manager for media libraries, which contain files such as images and videos.
Are Unlinked Codes Legal?
Yes, Unlinked codes are considered legal when used to install apps and access movies and TV shows that are within the public domain. TROYPOINT does not support or encourage any illegal activities related to streaming or downloading copyrighted content.
Are Unlinked Codes free?
Yes, Unlinked is free. It also provides APKs that are free to download and use on your device.
Can I download the Unlinked app from Google Play Store?
No, the Unlinked application is not available on the Google Play Store. However, you can download the app through the official Unlinked website. You may need to use the Downloader application or a similar sideloading method to access it. Exercise caution when downloading applications and ensure you are using a trusted source to avoid security risks.
What Devices can Unlinked be Installed on?
Unlinked is available for installation on any Android-powered device. This includes the Amazon Firestick, Fire TV, NVIDIA Shield, Chromecast, Android TV Boxes, tablets, phones, and more.
How can I use unlinked code?
Select the app you want to get and click download.
Now, downloading will begin.
Once the download is complete, select the app again and select Launch.
Click INSTALL.
After installation, click DONE to launch it later.
Conclusion
In conclusion, the world of IPTV and FireStick streaming is constantly evolving, and staying up to date with the best Unlinked codes UK is essential for an optimal viewing experience in 2023. These codes not only simplify the sideloading process but also open up a world of content for your IPTV service. So, don't miss out on the opportunity to explore the best Unlinked Codes UK 2023 and elevate your streaming game. Enjoy the convenience, variety, and quality that these codes bring to your IPTV subscription. Happy streaming!